Speaker: Michael Grant, BCS Immediate Past President
Topic: Anecdotes, lessons learned & the rocky thrill of a colourful career
Date: Thursday 23rd April 2020 – St Georges Day
Time: 17:30 until 19:00
Cost: Free
Location: Wherever you can get an internet connection and you are comfy…
Details and Booking for the webinar, via Eventbrite booking link at https://hamps23042020.eventbrite.co.uk – joining details will thereafter only be sent to those who registered. 
Two days prior to the event day and at 11.00am on the day of the event an email will be sent automatically to everyone who has registered providing information to access the webinar. Please note, you will need fairly modern kit (64 bit operating system and recent browser) – the Chrome which runs under Windows XP is not compatible, and the gotoWebinar app will not run on older kit – sorry.
Synopsis:
An entertaining and engaging opportunity to hear from the BCS Immediate Past President.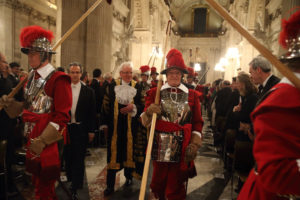 Michael Grant first entered the technology field in the flight simulation industry and then spent 35 years working in a variety of international marketing and corporate communications roles for six global IT companies. As a great supporter of education and 'volunteering' he describes how this became a vital integral part of his career and life. His revelations and anecdotes expose to all his lessons learnt!
In recent years, Michael has worked in IT recruitment, having founded his own pan-European IT headhunting company and was recently an associate director of Harvey Nash, one of the world's leading IT services and recruitment organisations.
Today he is a Trustee of the 15 schools of Chichester University Academy Trust and is currently setting up a National Board for 'Tech/Law for Good', which is a part of the recently launched 'Positive Transformation Initiative'.
Addressing his recent presidency directly, Michael said: 'It was a huge honour to be elected as the BCS President and to represent our IT profession. The role comes with many challenges, not the least of which today is to strive and ensure that IT is good for society, as required by our Royal Charter".
Other future Hampshire Branch events may be found at www.hampshire.bcs.org